EXHAUST PIPE WRAP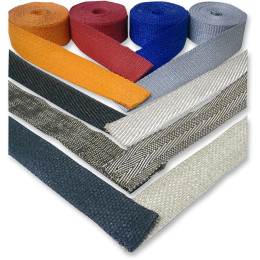 For maximum fuel burn or cosmetic upgrade
1" x 50' and 2" x 25' wrap includes four tie wraps in the color listed
2" x 50' and 2" x 100' wraps do not include tie wraps; see page ??? fore additional 4-pack and 20-pack tie wraps
Made in the U.S.A.
EXHAUST PIPE WRAP
| | |
| --- | --- |
| | |
| Part # | Description | Sug. Retail Price |
| --- | --- | --- |
| 1861-0539 | Black Exhaust Pipe Wrap/Silver Tie Wraps | $47.95 |
| 1861-0540 | Natural Exhaust Pipe Wrap/Silver Tie Wraps | $43.95 |
| 1861-0541 | Black Exhaust Pipe Wrap/Silver Tie Wraps | $58.95 |
| 1861-0542 | Natural Exhaust Pipe Wrap/Silver Tie Wraps | $49.95 |
| 1861-0543 | Black Exhaust Pipe Wrap | $59.95 |
| 1861-0544 | Natural Exhaust Pipe Wrap | $50.95 |
| 1861-0545 | Black Exhaust Pipe Wrap | $107.95 |
| 1861-0546 | Natural Exhaust Pipe Wrap | $91.95 |
| 1861-0773 | Metallic Exhaust Pipe Wrap | $80.95 |
| 1861-0774 | Metallic Exhaust Pipe Wrap | $144.95 |
| 1861-0775 | Silver Exhaust Pipe Wrap/Silver Tie Wraps | $71.95 |
| 1861-0776 | Silver Exhaust Pipe Wrap | $97.95 |
| 1861-0778 | Silver Exhaust Pipe Wrap/Silver Tie Wraps | $73.95 |
| 1861-0817 | Black Exhaust Pipe Wrap/Black Tie Wraps | $48.95 |
| 1861-0818 | Black Exhaust Pipe Wrap/Black Tie Wraps | $58.95 |
| 1861-0899 | Orange Exhaust Pipe Wrap/Black Tie Wraps | $71.95 |
| 1861-0900 | Orange Exhaust Pipe Wrap | $97.95 |
| 1861-0964 | Blue Exhaust Pipe Wrap/Black Tie Wraps | $71.95 |
| 1861-0967 | Blue Exhaust Pipe Wrap | $97.95 |
| 1861-0970 | Red Exhaust Pipe Wrap/Red Tie Wraps | $71.95 |
| 1861-0973 | Red Exhaust Pipe Wrap | $97.95 |
| 1861-0975 | Metallic Exhaust Pipe Wrap Kit/Silver Tie Wraps | $70.95 |
| 1861-0976 | Multi-Tone Exhaust Pipe Wrap Kit/Silver Tie Wraps | $57.95 |
| 1861-0986 | Metallic/Natural Exhaust Pipe Wrap/Silver Tie Wraps | $57.95 |
| 1861-0987 | Metallic/Natural Exhaust Pipe Wrap/Black Tie Wraps | $59.95 |
| 1861-0988 | Metallic/Natural Exhaust Pipe Wrap | $80.95 |
| 1861-1124 | Black Exhaust Pipe Wrap/Black Tie Wraps | $148.95 |
| 1861-1125 | Black Exhaust Pipe Wrap | $262.95 |