BRAKE PADS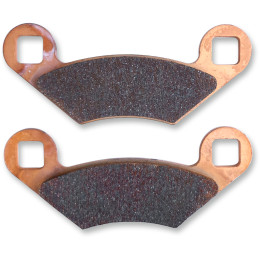 High-quality OEM replacement pads for your ATV
Provide solid, reliable braking power
Pads are standard, unless noted otherwise in application chart
Sold in a 2-pk.
FRONT AND REAR PADS
Standard pads are carbon graphite and are for general replacement
Heavy-duty pads are sintered and are best suited for mud, sand and utility use
EXTREME APPLICATION PADS
Longest lasting, sintered metal pads
Designed for prolonged use in extreme conditions such as mud, sand dunes and water
Provide more braking power for bigger tires
Sold in pairs
BRAKE PADS
NOTE: For brake pad/shoe applications, see chart on page ???.