HEADLIGHT CONVERSION KITS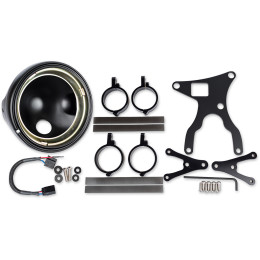 Designed to work with your existing headlight mount
Easy installation for any J.W. Speaker 7" round LED motorcycle headlight
Kit includes bucket, mounting brackets, wire assembly, Allen wrench, nuts, bolts and screws
Made in the U.S.A.
HEADLIGHT CONVERSION KITS
NOTE: Not all models of the motorcycle brands shown have mounting kits available.
NOTE: See J.W. Speaker web page www.jwspeaker.com/fitment for detailed application information for the specific models of the motorcycle brands listed below.