UNIVERSAL DOT BRAKE LINES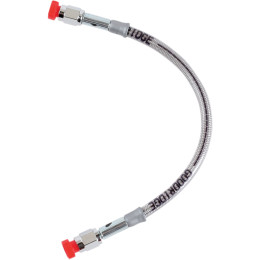 Top-quality universal brake lines in clear-coated stainless steel
Chrome steel fittings
All lines meet DOT and TUV specifications, making them street-legal worldwide
The combination of a PTFE inner braid and a stainless steel outer braid eliminates the spongy feel in heavy braking
Stainless steel braided hose has 24 strands of three wires, effectively making it a 72-wire hose
Banjo fittings and adapters available
Must be used with matching Goodridge stainless steel fittings; see page ???
UNIVERSAL DOT BRAKE LINES
| | |
| --- | --- |
| | |
| Part # | Description | Sug. Retail Price |
| --- | --- | --- |
| 1741-0243 | Stainless Steel Universal DOT Brake Line | $23.95 |
| D-80309 | Stainless Steel Universal DOT Brake Line | $24.95 |
| D-80311 | Stainless Steel Universal DOT Brake Line | $25.95 |
| D-80312 | Stainless Steel Universal DOT Brake Line | $26.95 |
| D-80314 | Stainless Steel Universal DOT Brake Line | $26.95 |
| D-80315 | Stainless Steel Universal DOT Brake Line | $27.95 |
| D-80316 | Stainless Steel Universal DOT Brake Line | $27.95 |
| D-80317 | Stainless Steel Universal DOT Brake Line | $29.95 |
| D-80318 | Stainless Steel Universal DOT Brake Line | $29.95 |
| D-80319 | Stainless Steel Universal DOT Brake Line | $29.95 |
| D-80321 | Stainless Steel Universal DOT Brake Line | $30.95 |
| D-80323 | Stainless Steel Universal DOT Brake Line | $31.95 |
| D-80324 | Stainless Steel Universal DOT Brake Line | $31.95 |
| D-80325 | Stainless Steel Universal DOT Brake Line | $32.95 |
| D-80326 | Stainless Steel Universal DOT Brake Line | $32.95 |
| D-80328 | Stainless Steel Universal DOT Brake Line | $33.95 |
| D-80330 | Stainless Steel Universal DOT Brake Line | $34.95 |
| D-80332 | Stainless Steel Universal DOT Brake Line | $35.95 |
| D-80334 | Stainless Steel Universal DOT Brake Line | $36.95 |
| D-80338 | Stainless Steel Universal DOT Brake Line | $38.95 |
| D-80340 | Stainless Steel Universal DOT Brake Line | $39.95 |
| D-80342 | Stainless Steel Universal DOT Brake Line | $40.95 |
| D-80343 | Stainless Steel Universal DOT Brake Line | $41.95 |
| D-80346 | Stainless Steel Universal DOT Brake Line | $42.95 |
| D-80347 | Stainless Steel Universal DOT Brake Line | $43.95 |
| D-80350 | Stainless Steel Universal DOT Brake Line | $44.95 |
| D-80352 | Stainless Steel Universal DOT Brake Line | $45.95 |
| D-80354 | Stainless Steel Universal DOT Brake Line | $46.95 |