BIG SHOT SPORTSHIELDS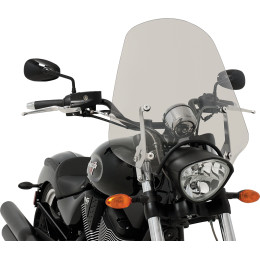 The biggest Sportshield available
Sleek styling with maximum coverage
Measure 21" W x 20" H above the headlight
Available in two headlight sizes – one for 7" and smaller; one for 9" headlights
Made of Lucite® for excellent optics and durability
Comes in gradient black or solar tint
Custom fit, model-specific mounting kits are sold separately; see page ???
Custom Lowers available for added coverage; see page ???
BIG SHOT SPORTSHIELDS