FABRIC AIR FILTER KIT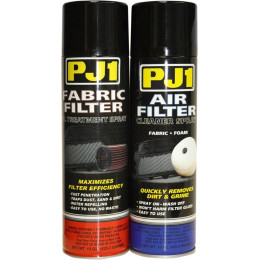 Includes PJ1 Fabric Air Filter Oil and PJ1 Air Filter Cleaner
PJ1 Fabric Air Filter Oil provides easy consistent application, improving performance of fabric/gauze type filter elements
PJ1 Air Filter Cleaner is a spray-on application that completely cleans the filter of dirt and oil without harming the filter element; once applied, the filter can be washed clean with water
30 oz. net wt. kit (15 oz. net wt. cans), 3 per case; sold each
Made in the U.S.A.
FABRIC AIR FILTER KIT
| Part # | Description | Sug. Retail Price |
| --- | --- | --- |
| 3704-0238 | Fabric Filter Care Kit | $23.95 |