BMS (BATTERY MANAGEMENT SYSTEM) 12V LITHIUM BATTERIES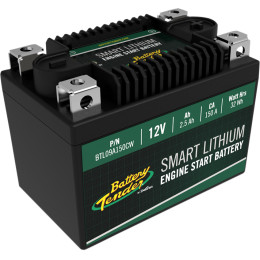 Smarter, safer, lighter weight
Lithium batteries provide better fuel economy, last four times longer, are two times lighter, are 99% more efficient in charge and have a constant current versus AGM variable current
All BMS batteries feature four terminals (two positive and two negative) that allow fitment on many powersports makes/models and also provides electrical accessory hook-ups options
Flexible accessory blocks are also included to absorb vibration and to allow custom fitment on many different powersport models
Includes BMS Smart battery management system that monitors, optimizes and protects the battery
Battery management system is used to monitor battery SOC (State of Charge), optimize battery performance, protect battery from over-charge (over voltage protection), protect from over-discharge (low voltage shut-off)
Battery Activation Wire connects Battery Activation Switch to BMS (Battery management system)
When BMS detects possible over-charge or over-discharge (voltage below a certain threshold), the BMS will shut off the battery (cannot charge/discharge) to prevent permanent battery damage
User can re-activate the lithium battery by pressing the Battery Activation Switch on the included Quick Disconnect Cable to allow battery to be charged again
Quick Disconnect Cable has three terminals: one to positive, one to negative and one to Battery Activation Switch
Fireproof coating engineered mechanism that supports high current flow during voltage discharging to provide thermal protection
LiFePO4 Cell High performance UL1642 certified LFP cell
IP67 bottom case engineered material with high melting point
Fits most model brands, including Aprilia, Honda, Piaggio, and Yamaha. Refer to the Street catalog for a complete list of applications.
BMS (BATTERY MANAGEMENT SYSTEM) 12V LITHIUM BATTERIES
NOTE: User is recommended to use Battery Tender Lithium Charger to recharge the lithium battery.