MEMPHIS SLIM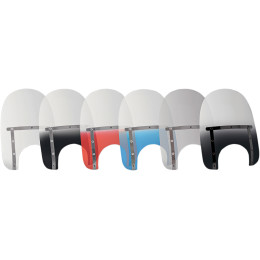 Slimmed-down version of Memphis Fats
Gradient translucent colors, as well as clear and solar (a light tint with 72% visible light transmission)
Measures 18" wide; available in 15" and 17" heights with a 9" headlight cutout
Made of Lucite® for excellent optics and durability
Windshield straps are available in polished stainless steel with CNC-machined billet aluminum fittings and stainless steel socket-head screws or "Night Shades" black version, which is a gradient black windshield with black E-coated stainless steel straps, fittings and hardware for a black-on-black sinister look
Mounting kits must be ordered separately; see page ???
Optional Lowers available for additional windshield coverage; see page ???
Made in the U.S.A.
MEMPHIS SLIM
| Part # | Description | Sug. Retail Price |
| --- | --- | --- |
| 2313-0105 | 15" "Night Shades" Black Memphis Slim Windshield | $167.95 |
| 2313-0107 | 17" "Night Shades" Black Memphis Slim Windshield | $177.95 |
| MEM4120 | 15" Clear Memphis Slim Windshield | $167.95 |
| MEM4121 | 15" Gradient Black Memphis Slim Windshield | $167.95 |
| MEM4122 | 15" Gradient Ruby Memphis Slim Windshield | $167.95 |
| MEM4126 | 15" Gradient Blue Memphis Slim Windshield | $167.95 |
| MEM4129 | 15" Solar Memphis Slim Windshield | $167.95 |
| MEM4220 | 17" Clear Memphis Slim Windshield | $177.95 |
| MEM4221 | 17" Gradient Black Memphis Slim Windshield | $177.95 |
| MEM4222 | 17" Gradient Ruby Memphis Slim Windshield | $177.95 |
| MEM4226 | 17" Gradient Blue Memphis Slim Windshield | $177.95 |
| MEM4229 | 17" Solar Memphis Slim Windshield | $177.95 |