ALUMINUM FRONT BUMPERS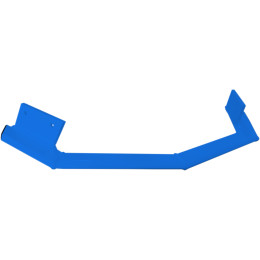 Available for late model machines from all four manufacturers
Available in different colors and parts can be cross-matched for a custom look
One-piece aluminum skid plate offers additional flotation and reduces drag in deep snow
Designed with crumple zones to protect the upper structure of today's sleds
Completely rebuildable with replacement parts after a crash or impact
Bumper combinations offer additional protection from trees, rocks, and other unexpected obstacles and are a must for those of you who like to play off-trail
Add Straightline Performance Night Cruiser LED lights; see page ???
ALUMINUM FRONT BUMPERS
Build your bumper starting with a sport bumper and accessorize to your liking
1. Sport series bumper
2. Rugged bottom wing
3. Skid plate
BUMPERS CAN BE BUILT IN FOUR DIFFERENT COMBINATIONS (SHOWN BELOW)
SPORT SERIES
SPORT COMBINED
RUGGED UPPER
RUGGED SERIES