PIVOT-STYLE RISERS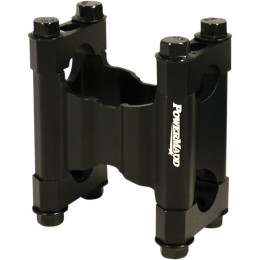 Machined from 6061-T6 aluminum for maximum strength; includes bolts and clamps
Use as a direct OEM pivot riser replacement to customize bar height or with PowerMadd pivot adapter kit (wide pivot riser only)
Require "T" style steering post or flat top steering post with PowerMadd pivot adapter kit; narrow pivot risers do not work with PowerMadd pivot adapter kits
Wide pivot risers fit 4-4.5" W steering post; narrow pivot risers fit 3-3.5" W steering post
When raising bars, verify amount of slack available in throttle cable and brake lines; extended throttle cables and brakes lines are available
Allow handlebars and rider to move forward, optimizes center of gravity and improves handling and control (like the Ski-Doo MXZ-REV chassis concept)
PIVOT-STYLE RISERS
NOTE: Designed for a "T" style steering post; with the use of a Pivot Adapter Kit the Pivot-Style Riser blocks can be used on a flat steering post.
NOTE: See extended-length brake lines in the Brakes section.
[[[[boxed note]]]]]
1. Does your sled have a pivot riser? If not, you need a pivot adapter.2. How wide is your current pivot riser?3. What brand of snowmobile do you have?4. How tall of a riser would you like?
| Part # | Description | Sug. Retail Price |
| --- | --- | --- |
| 0602-0971 | 3.125" W x 2" H Pivot-Style Riser | $49.95 |
| 0602-0972 | 3.125" W x 4" H Pivot-Style Riser | $54.95 |
| 0602-0973 | 3.125" W x 5" H Pivot-Style Riser | $59.95 |
| 0602-0974 | 3.125" W x 6" H Pivot-Style Riser | $64.95 |
| 0602-0975 | 3.125" W x 7" H Pivot-Style Riser | $69.95 |
| 0602-0976 | 3.125" W x 8" H Pivot-Style Riser | $74.95 |
| 0602-0977 | 3.125" W x 10" H Pivot-Style Riser | $79.95 |
| 0602-0978 | 4" W x 2" H Pivot-Style Riser | $49.95 |
| 0602-0979 | 4" W x 4" H Pivot-Style Riser | $54.95 |
| 0602-0980 | 4" W x 5" H Pivot-Style Riser | $59.95 |
| 0602-0981 | 4" W x 6" H Pivot-Style Riser | $64.95 |
| 0602-0982 | 4" W x 7" H Pivot-Style Riser | $69.95 |
| 0602-0983 | 4" W x 8" H Pivot-Style Riser | $74.95 |
| 0602-0984 | 4" W x 10" H Pivot-Style Riser | $79.95 |