S.A.M. 2 1000 AIR LIFT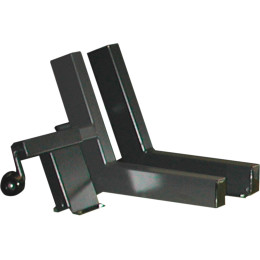 Developed for bike professionals who need a longer and wider work surface with the convenience of double drop panels for easy maintenance
Lifts bikes up to 1,000 lb.
Work surface measures 93" L and 28" W; drop panels measure 15" L and 28" W
Elevates to a maximum height of 35" and lowers to a minimum height of 71/2​"
Contains an extended ramp of 40" L for lower-built bikes
Air source is 90-120 psi
Attach the CV-17 Cycle Vise to the front drop leaf or position it back on the table for rear wheel maintenance; sold separately
Made in the U.S.A.
S.A.M. 2 1000 AIR LIFT
NOTE: This is a drop ship product; no returns.
| Part # | Description | Sug. Retail Price |
| --- | --- | --- |
| 4110-0087 | CV-17 Cycle Vise | $223.95 |
| 4110-0099 | Gray S.A.M. 2 1000 Air Lift | $1,653.95 |
| 4110-0100 | Orange S.A.M. 2 1000 Air Lift | $1,803.95 |
| 4110-0101 | Red S.A.M. 2 1000 Air Lift | $1,914.95 |
| 4110-0102 | Black S.A.M. 2 1000 Air Lift | $1,914.95 |
| 4110-0103 | 10" S.A.M. 2 1000 Air Lift Side Extensions | $642.95 |
| 4110-0139 | Blue S.A.M. 2 1000 Air Lift | $1,914.95 |