HI TEST OCTANE BOOSTER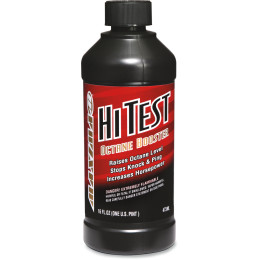 Concentrated octane booster increases pump gas octane rating
Eliminates pre-detonation
Mix either with straight gas or with alcohol and nitrous mixtures
For 2- or 4-stroke engines; cleans fuel delivery systems
Legal for all racing applications
Won't harm or discolor plastic gas tanks
Each ounce of octane booster per gallon of gas raises octane rating by four points
Available in 16 fl. oz. bottles, 12 per case; sold each
Made in the U.S.A.
HI TEST OCTANE BOOSTER
| Part # | Description | Sug. Retail Price |
| --- | --- | --- |
| 83916 | Hi Test Octane Booster | $6.50 |