ELECTRIC HYDRAULIC LIFTS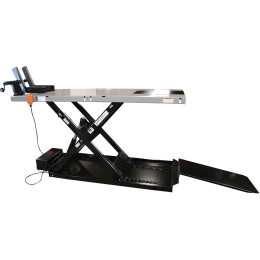 All the best features you've always wanted in your powersport lift can be found in Handy's Hydraulic Lift
Handles nearly every project you can throw at it with a lifting capacity of 1,500 lb.
Self-storing rear drop-out panel is ideal for easy tire changing and the 18" front drop down gives easy access to front wheel and fork
Automated locking safety latch system with 10 safety stops for convenient working height
Raises to a max height of 48" and lowers to a minimum height of 73/4​"
Working space measures 865/8​" L x 291/2​" W
Rear drop-out panel measures 141/8" W x 23" L; front drop-leaf panel measures 291/2​" W x 153/8​" L
Ramp measures 171/2​" W x 36" L
Power source is electric hydraulic, 120V, 60 hz, single phase
Weighs 735 lb.
Cycle vise and 12" side extensions also available; sold separately
Made in the U.S.A.
ELECTRIC HYDRAULIC LIFTS
NOTE: This is a drop ship product; no returns.
| Part # | Description | Sug. Retail Price |
| --- | --- | --- |
| 4110-0087 | CV-17 Cycle Vise | $224.95 |
| 4110-0111 | Gray Electric Hydraulic Lift | $3,241.95 |
| 4110-0112 | Orange Electric Hydraulic Lift | $3,352.95 |
| 4110-0113 | Red Electric Hydraulic Lift | $3,352.95 |
| 4110-0114 | Black Electric Hydraulic Lift | $3,352.95 |
| 4110-0115 | 12" Electric Hydraulic Lift Side Extension | $675.95 |
| 4110-0140 | Blue Electric Hydraulic Lift | $3,352.95 |