FAT STRAP TRAILER KITS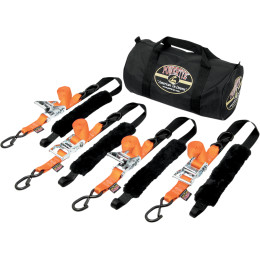 Everything needed for a secure tie-down
Include two pair of Fat Strap 11/2​" deluxe ratchet tie-downs with genuine sheepskin sleeve and vinyl-coated secure hook ends
6,000-lb. test nylon webbing; 1,000-lb. working load
Double-security stitching
61/2​' L
Include heavy-duty Cordura® nylon storage bag with zipper top closure
Made in the U.S.A.
FAT STRAP TRAILER KITS