B.O.B. 1500 AIR LIFT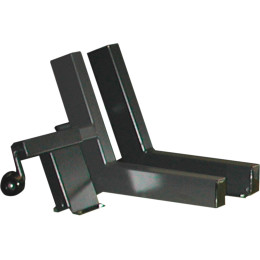 The B.O.B. 1500 Air Lift solves numerous challenges in today's professional workshop
Lift raises to a maximum height of 40" for taller mechanics; lowers to a minimum height of 10"
Lifts a maximum weight of 1,500 lb. for fully-dressed motorcycles, trikes and quads
Includes a dropout for convenient tire changes
Air source is 90-100 psi
Measures 7' x 28"
Ramp measures 40"
Weighs 560 lb.
12" side extensions and 13" front extensions or a trike extension for space also available; sold separately
Made in the U.S.A.
B.O.B. 1500 AIR LIFT
NOTE: This is drop ship product; no returns.
| Part # | Description | Sug. Retail Price |
| --- | --- | --- |
| 4110-0087 | CV-17 Cycle Vise | $223.95 |
| 4110-0104 | Gray B.O.B. 1500 Air Lift | $2,044.95 |
| 4110-0105 | Orange B.O.B. 1500 Air Lift | $2,158.95 |
| 4110-0106 | Red B.O.B. 1500 Air Lift | $2,158.95 |
| 4110-0107 | Black B.O.B. 1500 Air Lift | $2,158.95 |
| 4110-0108 | 12" B.O.B. 1500 Air Lift Side Extension | $547.95 |
| 4110-0109 | 13" B.O.B. 1500 Air Lift Front Extension | $199.95 |
| 4110-0110 | B.O.B. 1500 Air Lift Spyder/Trike Extension | $663.95 |
| 4110-0154 | Blue B.O.B. 1500 Air Lift | $2,158.95 |