CALIBRATION GUIDE FOR 108-EXP, 108-C AND 102-C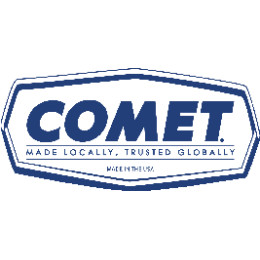 CALIBRATION GUIDE FOR 108-EXP, 108-C AND 102-C
The following is a partial listing of known, reasonable calibrations for models 108-EXP, 108-C and 102-C clutches. If an application is not listed, refer to the clutch technical specifications to find the correct uncalibrated version.
IMPORTANT NOTE: The calibrations in this guide are in no way the ultimate for all applications! They are for general usage, not racing. For racing applications, contact a high-performance specialist or Comet Industries. Calibrations are not intended for high altitude (above 4,000 feet) unless indicated.
THIS CALIBRATION GUIDE IS INTENDED FOR USE IN CONJUNCTION WITH COMET LITERATURE NO. 161004 – INSTALLATION INSTRUCTIONS FOR ARMS AND SPRING ON COMET 108-EXP 97, 108-EXP/108-C/102-C.
| | |
| --- | --- |
| | |
| Part # | Description | Sug. Retail Price |
| --- | --- | --- |
| 202552 | Blue 108 4-Pro/108-EXP/102-C/108-C Clutch Spring | $23.95 |
| 203473 | Pink 108 4-Pro/108-EXP/102-C/108-C Clutch Spring | $29.95 |
| 203474 | White 108 4-Pro/108-EXP/102-C/108-C Clutch Spring | $29.95 |
| 204115 | Black 108 4-Pro/108-EXP/102-C/108-C Clutch Spring | $19.95 |
| 204818 | Silver 108 4-Pro/108-EXP/102-C/108-C Clutch Spring | $21.95 |
| 207689-1 | Cam Arm | $21.95 |
| 207758 | Purple 108 4-Pro/108-EXP/102-C/108-C Clutch Spring | $18.95 |
| 207877 | Red 108 4-Pro/108-EXP/102-C/108-C Clutch Spring | $18.95 |
| 207888 | Purple 108 4-Pro/108-EXP/102-C/108-C Clutch Spring | $18.95 |
| 208175 | Gold 108 4-Pro/108-EXP/102-C/108-C Clutch Spring | $26.95 |
| 208221-1 | Cam Arm | $17.95 |
| 208228 | Yellow/Green 108 4-Pro/108-EXP/102-C/108-C Clutch Spring | $18.95 |
| 208238 | Yellow/Red 108 4-Pro/108-EXP/102-C/108-C Clutch Spring | $26.95 |
| 208268-1 | Cam Arm | $17.95 |
| 208457-1 | Cam Arm | $14.95 |
| 208968-1 | Cam Arm | $18.95 |
| 209011-1 | Cam Arm | $21.95 |
| 209642-1 | Cam Arm | $24.95 |
| 209677 | Silver/Red 108 4-Pro/108-EXP/102-C/108-C Clutch Spring | $31.95 |
| 209696 | Silver/Black 108 4-Pro/108-EXP/102-C/108-C Clutch Spring | $18.95 |
| 209936 | Silver/Orange 108 4-Pro/108-EXP/102-C/108-C Clutch Spring | $18.95 |
| 211333-1 | Cam Arm | $20.95 |
| 212135-1 | Cam Arm | $23.95 |
| 212639-1 | Cam Arm | $20.95 |
| 212820-1 | Cam Arm | $20.95 |
| 213370-1 | Cam Arm | $21.95 |
| 213400-1 | Cam Arm | $19.95 |
| 213864-1 | Cam Arm | $21.95 |
| 213867-1 | Cam Arm | $21.95 |
| 214172-1 | Cam Arm | $20.95 |
| 214255-1 | Cam Arm | $18.95 |
| 214651-1 | Cam Arm | $21.95 |
| 215149-1 | Cam Arm | $18.95 |
| 215218-1 | Cam Arm | $18.95 |
| 215242-1 | Cam Arm | $25.95 |
| 215400-1 | Cam Arm | $21.95 |
| 215867-1 | Cam Arm | $20.95 |
| 216061-1 | Cam Arm | $20.95 |
| 216087-1 | Cam Arm | $20.95 |